Current notice
Please book an appointment before visiting us at www.terminland.de/esslingen/ or call us on 0711 3512 3343 during Villa Merkel's regular opening hours.
Please wear a medical mask during your visit and keep at least 1.5 m away from other visitors.
---
Api étoilé – Conversation with Esslingen's Mayor Dr Jürgen Zieger
Videogrußwort der Staatssekretärin Petra Olschowski
Digitaler Rundgang durch die Villa Merkel
16 May 2021 – 15 August 2021
Gabriela Oberkofler –
Api étoilé / A growing archive
Start of research: 1 April 2020
Opening: Sunday, 16 May 2021, 11 am
Gabriela Oberkofler - Api étoilé / A Growing Archive is an artistic project on forgotten crops and new forms of coexistence.

Api étoilé brings diverse actors and institutions from different fields such as research and science, agriculture, folklore, visual arts, cultural promotion into a collaborative exchange at eye level. After a phase of transcultural cooperation with farmers, seed specialists or various seed archives and after a phase of plant cultivation, Api étoilé culminates in an exhibition in the Villa Merkel in Esslingen, which also plays host to a cultural-historical rural stage in the Freilichtmuseum Beuren. With an opulent accompanying programme of lectures, artist talks or even Slow Food tastings of traditional useful plants, Api étoilé turns Villa Merkel and the Freilichtmuseum Beuren into places of cultural and social encounter, of togetherness, into places for people, plants and animals. Gabriela Oberkofler appears as an artist and as a networker who involves a wide variety of actors in a participatory way.
Experience and knowledge are successively added on highly diverse levels.
We thank our cooperation partners: the Freilicht Museum Beuren and the Kunsthaus Dresden.
Because it is currently not possible to visit the exhibition, the first net-based formats on the project will start on 16 May. The digital offer on the project homepage is constantly being expanded.
https://www.swr.de/swr2/kunst-und-ausstellung/atelierbesuch-gabriela-oberkofler-im-kunstverein-wagenhalle-100.html
Supported by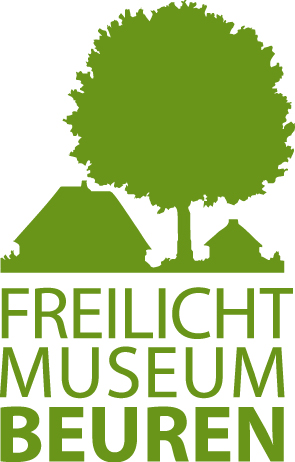 Gesellschaftlicher Zusammenhalt – Förderung von künstlerischen und kulturellen Projekten
---
Since February 2019
BELLE & APHRODITE
Augmented Reality
by Barbara Herold
In the app BELLE & APHRODITE for smartphone or tablet, it is possible to experience a walk-in audio-visual metamorphosis of virtual plants.
The 3D plant BELLE extends across the entire Merkelpark. As an interactive form-cloud, it leads visitors, on the basis of data regarding their location and movement, to a virtual rose at the centre of the park.
APHRODITE was designed for the skylit atrium. In recurrent audio-visual loops, the 3D installation develops into a Phalaenopsis, a familiar type of orchid. APHRODITE can be viewed from all perspectives and, in its overlapping of simulation space and actual space, plays with the experience of abstraction, proportional relationships, proximity and distance.
Barbara Herold (*1977) directs her attention to the shaping of reality through the media. She investigates structures and phenomena which have established themselves through the influence of media technology on society; she develops her own systems on the basis of prevalent design practices such as computation and algorithms. Her works arise in the dynamic field between analogue and digital technology.
Download App BELLE - APHRODITE
---
Since May 18th, 2014
Lois Weinberger – Mobiler Garten
The 'Mobile Garden' of the artist and Documenta participant Lois Weinberger, was set up in front of the winter garden of the Villa Merkel, where it will remain for an extended time. In its wildness, it contrasts with the surrounding Merkelpark, whose well-kept greenery is reminiscent of English landscape gardens.

A field formed out of yellow plastic tubs filled with soil has been exposed to the free forces of nature. Over time, pioneer and ruderal plants have come to occupy the space in a spontaneous colonisation. Nature unfolds in accordance with the dynamism of its own laws in a veritably paradisal, because free manner. A Garden of Eden established itself.
Over the years, this natural process of colonisation began to change into a form of decaThe tubs gradually become bleached and decompose. The plastic particles blend with the soil and the plants; after decades, rainfall can be expected to have washed the underlying area clean again.
The garden is a fundamental form of our encounter with nature. We are familiar with gardens that aim at producing crops as well as those that are set up as beatific sites of contemplation. Affinities with paradise are possessed by the fruit and vegetable garden, the Baroque pleasure garden or, as an oasis amid the city, the public garden – in Esslingen, namely the Maille and the Merkelpark.
---